About Timothy Frank Dick

Tim began illustrating for hire in grade school at Girard College in north Philadelphia. He initially illustrated race cars, dragsters, and landscape scenery for his friends and classmates. He was often paid in the form of lunch money, snacks, or small change.
At the age of twelve Tim sold his first commissioned portrait to the late William Kochever. Mr. Kochever was the original owner of Hellriegel's Inn in Painesville, Ohio. As Tim recalls, it was a pencil sketch and commissioned for the price of $5.00.
Tim continued his love of art by taking art classes through junior high and high school and received numerous Gold Key Awards for his outstanding art work. He later attended Lakeland Community College in Kirtland, Ohio. Then went on to attend Cooper School of Art in Cleveland, Ohio. During his college years, Tim supplemented his income and paid for college tuition by serving as a freelance illustrator for local advertising agencies.
Upon graduating from art school, Tim accepted a full-time job as an electrician in a steel mill while moonlighting as a portrait artist and illustrator for friends, co-workers and additionally The Cleveland Magazine.
In 1982, Timothy F. Dick & Associates, Inc. opened for business producing architectural renderings, home portraits and home designs. Tim currently runs a fast-paced and successful home designing firm providing complete working drawings for construction. He combines his love for art by displaying his portraits, illustrations, and home renderings in an attached studio to his office in Mentor, Ohio.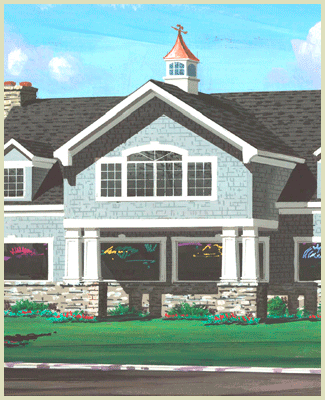 For personalized, high quality and original art work contact Tim at 440-622-5950.